Argan Oil by Nanoil. A Cosmetic That Will Turn Your Beauty Routine Around
Are you dreaming of gorgeous and long hair? Do you want the cellulite and stretch marks to vanish from your body? Are you wondering what can be done to prevent fine lines and restore firmness to the skin? Meet the do-it-all argan oil from Nanoil that slows down ageing, speeds up hair growth, strengthens nails… and more!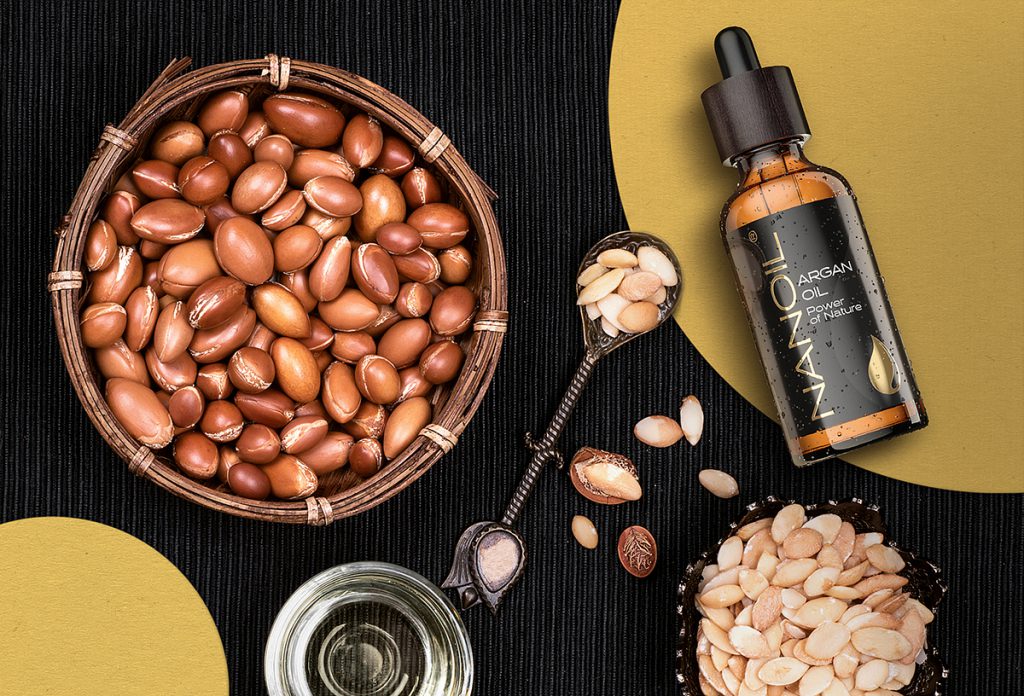 Nanoil Argan Oil: 100% organic | unrefined | cold-pressed
INCI: Argania Spinosa Kernel Oil
Size: 50 ml / 1.69 fl oz
There are over 100 precious constituents floating in the argan oil that create a powerful and versatile cosmetic for everyone. Nanoil Argan Oil is an antioxidant that combats free radicals, thus preventing premature skin aging. It also moisturizes and improves elasticity. No matter the skin type, argan oil helps all of them look better.
If you are looking for a nail conditioner that is free from synthetic fillers, Nanoil Argan Oil may be your go-to. Ecocert certificate proves this oil's highest quality.
Extracted from the Moroccan argan tree, known by some as the "tree of life", argan oil is the world's most popular cosmetic oil. Each drop of Nanoil argan oil takes care of the skin, hair and nails.
Constituents of pure argan oil
In 80%, Nanoil Argan oil comprises essential, unsaturated fatty acids. They offer nothing but benefits for skin and hair. Apart from that, pure argan oil has:
oleic acid transports nutrients to the deepest layers of the skin and hair,
phytosterols defy ageing, thus promoting youthful-looking appearance,
flavonoids repair and revive both hair and skin,
vitamin E fights free radicals and prevents premature ageing,
butyrospermol soothes and calms down irritated skin; perfect after-sun care,
polyphenols protect the skin from all sorts of damage,
omega-3 and omega-6 are crucial for the skin to function properly.
Wyświetl ten post na Instagramie
Effects of Nanoil Argan Oil for the hair & skin
This super lightweight argan oil works for everyone. It's tolerated well by all skin types and can be used as an all-natural alternative to regular face and eye serums. Since this beauty product is made up of just one ingredient, you can apply it to sensitive, acne-prone, damaged and oily skin to moisturize, improve firmness and get a healthier-looking complexion.
The same applies to hair care. Argan oil restores shine to dull hair and accelerates its growth significantly. Massage the oil into the scalp to deal with uncontrolled thinning and calm down sebaceous glands. Splitting ends? Apply argan oil to the tips every day to see the improvement.
Rub argan oil into the nail plate and cuticles regularly for a few weeks and you will stop them from splitting and breaking. If you spread a few drops of this golden oil over your heels, knees and elbows, you will make the skin softer and moisturized. Don't forget to apply a tiny portion of cold-pressed argan oil to the eye skin and lashes to improve elasticity of both.
Great value & a big size
Online reviews prove that multitasking Nanoil Argan Oil is loved by thousands of women and beauty industry specialists from all over the world. Buying just one bottle, you get as much as 50 ml (1.69 fl oz) of a brilliant and vegan-friendly beauty elixir. The fast-absorbing oil makes it easy and quick to spread it over whichever body part that needs moisturizing and nourishment.
Using Nanoil, you can be sure that you expose the body and hair to the finest treatment. And this applies not only to the argan oil but also to the other beauty products that Nanoil has in its regular offer.