Blackcurrant hydrosol – properties & uses
Blackcurrant juice is a treasure trove of vitamin C and it makes a popular choice especially during seasons when we suffer from poorer immunity. It's too bad though that very few people know it might be also a great boost of health for the skin. All you need is a blackcurrant hydrosol!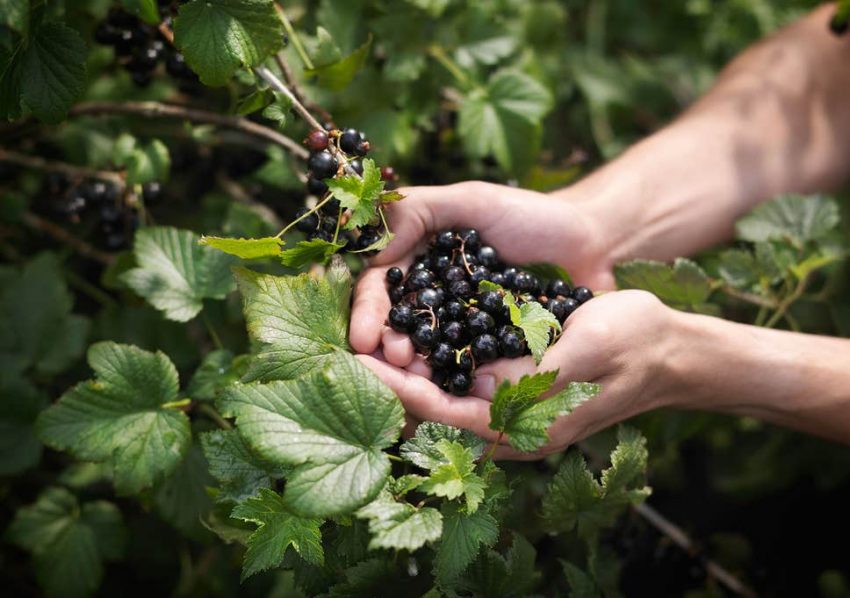 What are the properties of blackcurrant and how you can use it on skin? Learn more about what's hidden in tiny fruits and leaves of blackcurrants popular in food industry.
Blackcurrant. What does it contain?
Do you know why blackcurrant has a dark color? Because it's high in anthocyanins – pigments that have a red, purple or blue color, depending on pH. In blackcurrants there can be even 15 various types of anthocyanins.
Another ingredient naturally occuring in blackcurrant is vitamin C in large quantities. Just a handful of these fruits is the recommended daily intake of ascorbic acid (vit. C). It is another valuable antioxidant.
Apart from these two key substances, blackcurrant also features vitamins B, E, K, D and PP as well as precious mineral ingredients: potassium, phosphorus, calcium, iron, magnesium, sodium, zinc and boron. Their quantities are smaller but they are able to help nourish the skin as well.
Properties of blackcurrants
Thanks to these ingredients, blackcurrant has health benefits, neutralizes harmful free radicals and prevents damage of cells. It works well both in natural medicine and skin care.
Let's take a look at the most powerful properties of blackcurrant:
is an antioxidant so it fights free radicals.
has anti-inflammatory effect and soothes irritated skin.
rejuvenates thanks to antiaging qualities.
boosts immune system and protects skin.
kills bacteria and viruses e.g. herpesvirus.
Do blackcurrant fresh fruits, juices as well as hydrosols have all of these properties?
Blackcurrant juice vs hydrosol
Blackcurrant juice is full of nutrients because it's a concentrate extracted from fruit. The juice doesn't lose any vitamins or minerals and that's why we are advised to drink it in large amounts for the sake of health.
Blackcurrant hydrosol is different from the juice mostly because of how and what it is extracted from. Blackcurrant leaves are used for its production – to be more precise, it's a by-product of blackcurrant essential oil extraction. Still, being a by-product doesn't mean the loss of valuable cosmetic properties. The hydrosol is even more popular than the oil because it isn't so tacky, dense and intense-colored.
What are the benefits of blackcurrant hydrosol?
This simple-looking, color-less, odorless and watery substance will stun you once you feel its effect on your own skin!
For combination, oily, acne-prone skin
Blackcurrant hydrosol normalizes secretion of sebum, not drying out the skin. It purifies skin, disinfects and reduces inflammation characteristic for e.g. acne, clears skin pores. It might have a slight brightening effect but, above all, it brings relief and alleviates irritations.
For mature, antiaging skin
It neutralizes free radicals thanks to being an antioxidant, keeps the sufficient levels of moisture and nourishes skin. Blackcurrant hydrosol enhances cellular repair, reducing wrinkles and making skin smooth and elastic.
For couperose skin, and post-shave skin irritations
Blackcurrant-based hydrosol strengthens and seals walls of blood vessels so the risk of broken vessels is reduced. It helps the body absorb the existing spider veins. Moreover, it prevents inflammation, reduces redness and irritations, bringing relief to skin.