Face Gym Training Sticks. Cosmetics that work while you're working out!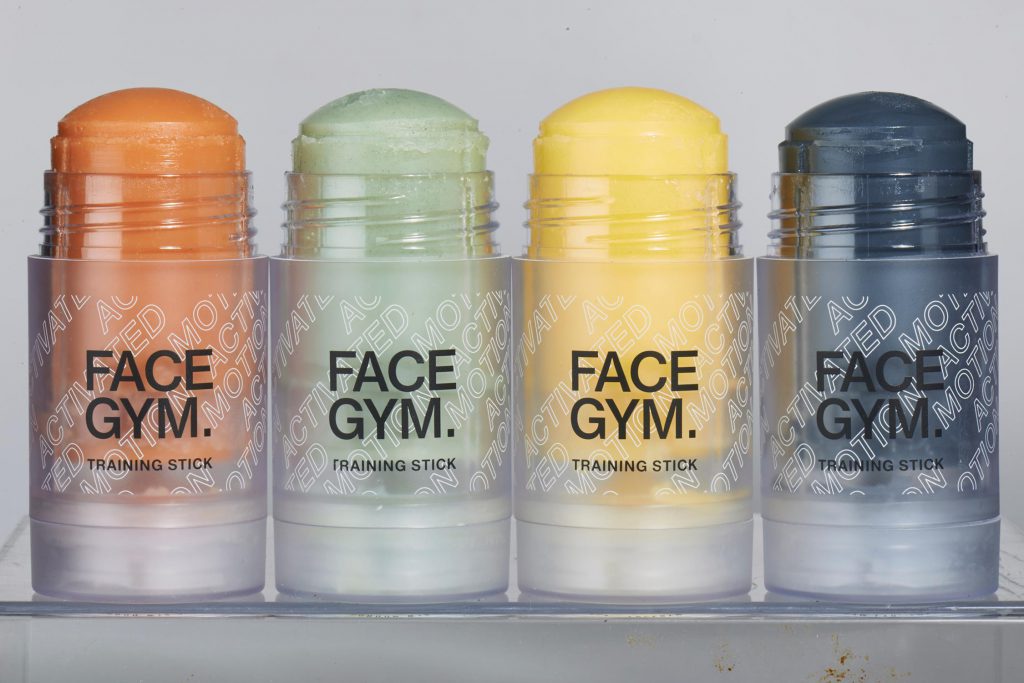 Four sticks, four different effects and one, unique way of working. Face Gym Training Sticks are cosmetics designed to be applied before going to the gym and which work only during physical activity. Find out how to turn physical effort into beauty.
Undoubtedly, we're getting more and more convinced that regular exercising pays off. Definitely, working out is all to the good – our physical condition improves, we defuse tension, slim down our bodies and lose a few pounds that we don't really need.
Owing to Face Gym cosmetics, we can gain even more than that!
Face Gym – cosmetics applied before visiting the gym
Stick cosmetics that has to be applied before going to the gym is a novelty. The inspiration for creating this type of products derived from growing popularity of beauty parlours offering face skin rejuvenating treatments resembling exercises. Then a London journalist dealing with the subject of beauty, Inge Theron, decided to move this face gymnastics to a regular gym.
That's how four products Face Gym Training Sticks were created. They are cosmetics activated during energetic and exhausting training.
How do Face Gym Training Sticks work?
The secrets of Face Gym Training Sticks are the active substances that start working under the influence of wet and warmth. That's why they serve their purpose at the gym, when skin is wet and warmed up due to exercises.
What's the point in applying cosmetics before hitting the gym? In most cases, we cleanse and condition skin after finishing our workout. However, Face Gym brand encourages us to take advantage of the perfect environment that is created during intensive training – the very cosmetics work better when skin is warmed up, which microcirculation and metabolic are stimulated.
Therefore, Face Gym products start working after 20 minutes since the beginning of exercising, when our skin reaches the right temperature and gets wet.
Face Gym Training Sticks
Face Gym Training Sticks are easy-to-use products which small size facilitate carrying them to the place where we plan to exercise. Although the sticks have to be applied the exact same way, each of them deliver slightly different action.
1. Brazilian Pink Clay Training Stick
This stick belonging to Face Gym series is supposed to highlight and brighten skin up. It helps us to convert this famous "I don't sweat, I sparkle" into "I sparkle owing to my sweat'. The composition of Brazilian Pink Clay Training Stick includes pink clay and Asian Hoya Lacunosa extract. When applied before exercising, this highlighting Face Gym stick doesn't only leave skin shiny but also it moisturises, works anti-oxidative, rejuvenates, lights up and evens out skin tone.
2. Multivitamin Training Stick
This version of Face Gym products is a combination of moisturizing hyaluronic acid and concentrated vitamins E and C that deliver anti-oxidative action. The stick is enriched with vitamin A, essential fatty acids and carrot oil. It's task is to maintain skin hydration. This type of nourishing bomb that Multivitamin Training Stick is, conditions skin, moisturises it, balances pH and prevents dehydration. Additionally, it minimizes the adverse influence that sweat has on skin.
3. Spirulina Training Stick
This green Face Gym stick owns its colour to protein-rich spirulina, which is a well-known sea algae. The main action delivered by the cosmetic is skin firmness improvement, but thanks to the additional substances (Bidens pilosa extract, vitamins A, B, C) it works way better than just that. Spirulina Training Stick, if you apply it every time before exercising, improves skin suppleness, highlights it, neutralizes the adverse action of free radicals, strengths natural skin protective layer and reduces visibility of wrinkles. It slows down skin ageing processes, too.
4. Activated Charcoal Training Stick
The last version of Face Gym stick contains active charcoal. It's primal aim is to detoxify skin, so Activated Charcoal Training Stick will serve well people living in big cities, stressed, who lead hectic lifestyle. Just 7 days is how long it takes for the product to unclog skin pores and improve skin hydration along with its look.
How to apply Face Gym sticks?
Choose one of the four sticks that are activated during physical activity and apply it before entering the gym. This stick form is a very convenient solution because you don't have to distribute the cosmetic on your hands to place it on your face. You just apply it straight to your face.
And this is where our task finishes because Face Gym Training Sticks start working when you exercise. While you're working on your fitness, the products are boosting your face skin look.