How to choose perfumes? Find fragrance that matches you best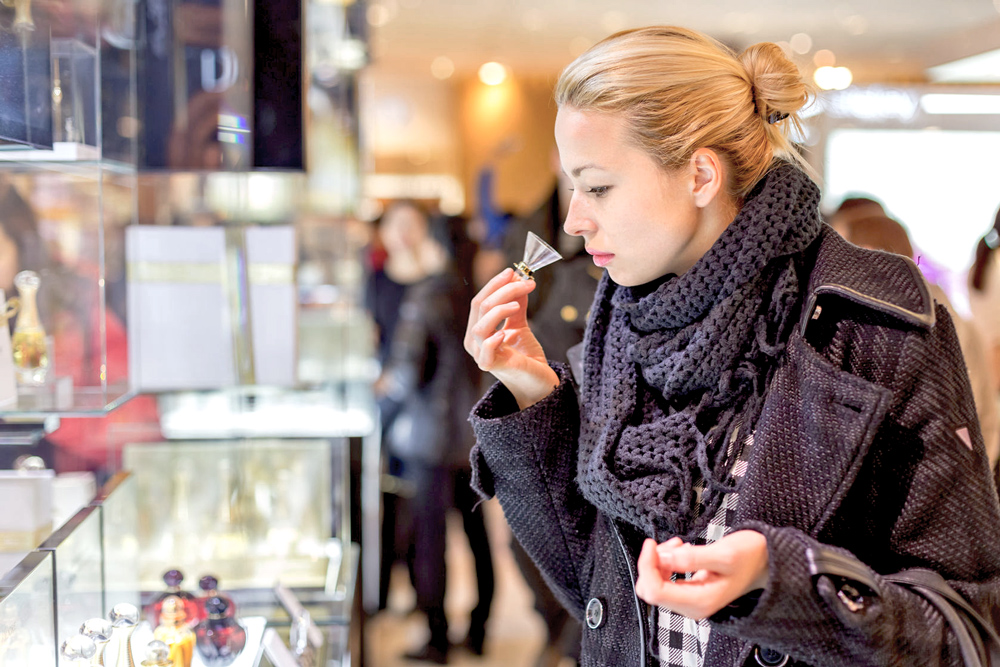 Some of us treat them like a garment to such an extent that when not wearing one, they feel as if were naked. A well-groomed woman behind whom there is no fragrance following doesn't impress us as much as the one who looks fabulous and smells incredible. What should we do to be exactly this kind of woman?
How to choose fragrances? The criterion for selecting the right smell
When we enter a perfumery and stand in front of shelves full of stylish phials, where Coco Chanel and Christian Dior poured fabulous potions a long time ago, we become panic-stricken (kind of). Which fragrance to get? Which perfumes would match my personality? Which would smell compellingly on my skin? Which are suitable for the summer, and which are better to be worn during the winter? And finally, which should be used for work, and which should I wear for a romantic supper?
If we want to choose perfumes which are suitable for us, we should be led by the following criterion:
our personality/our character,
our skin's individual pH,
our sense of fashion,
our age,
season,
places we visit often.
How to match perfumes to personality?
We can distinguish four basic groups of fragrances:
light citric fragrances,
flowery aromas,
heavy oriental aromas (containing cinnamon, nutmeg, ginger or pepper, for example) or aromas associated with animalic smells (e.g. ambra, musk, castoreum or civet),
wood aromas (e.g. sandalwood, cedar, or patchouli).
Citric perfumes should be used by energetic, cheerful and positive thinking women. These fragrances are designed for minimalists who like spending their leisure time in an active way, outside. When it comes to flowery aromas, these were created for delicate and sentimental romantics. For oriental aromas reach women who are lofty, value splendour as well as peace and quiet. Wood aromas suit home birds mostly, those who can be described as distant and who treat people with caution. This type of women seeks harmony, peace and the sense of safety. Also, they happen to be a little bit lazy and expedient.
How to match perfumes to skin type?
It's said that perfumes don't produce the same aroma when applied to various kinds of skin. The reason for that are various skin reaction types, which is pH, cosmetics applied for daily care and a diet we follow.
The other criterion of choosing the right fragrance
When choosing fragrances, the fashion we follow as well as lifestyle we lead and places we visit most often, are the very issues which should be taken into account. If we feel comfortable in sporty clothes, and if we are easy to find on a tennis court or riding rollerblades, it would be strange if we smelled oriental. Basically, this kind of fragrances should be also avoided by teenagers, who are better with delicate aromas of flowers or fruits. When it comes to citric-aroma based perfumes, they catch our grandmas' interest most. Moreover, equally important is a season in which we make the purchase; for warmer seasons you should go for lighter fragrances, autumn and winter – heavier.
How to choose perfumes for yourself and how to select fragrance for a girl/woman?
The truth is, we should pick perfumes for ourselves on our own. Moreover, it's better to visit a perfumery in the morning, when our senses are well-rested, and smell maximally three fragrances. However, if you feel like giving a go to more than three aromas, coffee beans will give you a leg up (these are available in most perfumeries). Spray perfumes over your wrists. Note: you shouldn't make up your mind immediately after sniffing particular fragrances because they smell differently with every passing hour.
It's way more difficult to choose perfumes for a girl or a woman whom we would like to make a surprise to. In this case, you can follow her personality traits, fashion, lifestyle, age she is and the ongoing season to select the right perfumes for her. Nevertheless, it's worth bearing in mind that it's fairly easier to buy someone a blouse 'to your eye' than choose the right perfumes 'to your nose' – this might appear to be mission impossible.