Kate Moss Lipstick – The Best Drugstore Lipstick Ever!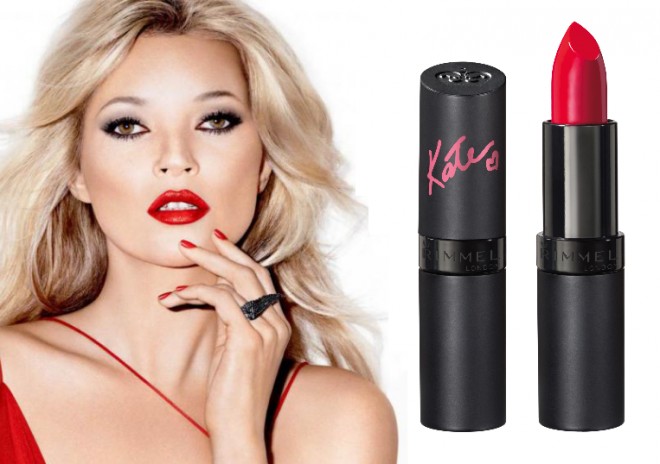 Kate Moss for most of her career life has been co-operating with the British Rimmel Company. This year Kate celebrates 20 years in the modelling industry. This is the reason why Rimmel has offered to release a new lipstick signed by Kate's name.
Kate Lipsticks by Rimmel has been introduced this year and they instantly became the must-have product for any make-up lover. Rimmel has released this lipstick in twelve colours and each shade is bound to flatter any women regardless of the skin colour. The colours have no name but number which may cause some chaos and when comparing shades. All of the lipsticks are matte but once applied they do not dry out the skin and they are very comfortable to wear. In the collection, we can find three many shades of red that are the hit of this season. None of the lipstick requires using the lip pencil, as they do not bleed or transfer.
The lipstick comes in a sleek and sophisticated black or red tube. The consistency is creamy and soft. It glides very smooth and it is very lightweight. Each shade is rich pigmented and it lasts for a couple of hours without feathering of smudging. This are no lip stains so your lips will require small touch ups especially after a big meal.
What is great about the Kate Lipstick is that there is no need to build the colour as only one swatch is enough to get deep colour on your lips. Additionally, the Kate Lipstick wears off gradually and it does not leave colourful patches. The scent is pleasant, yet, not overwhelming.
It seems that the Kate Lipstick has everything what we may want. It smells nice but not too strong, it has a great payoff, it lasts long, moisturizes lips leaving them slightly matte. The shade range is wide and all the colours are wearable. It sounds like a good deal for a high-end lipstick. The fact that it is a drugstore product makes it even more attractive. Although it is a very good quality lipstick, it is available to anyone who would like to look like a star. The price is affordable as it costs only £6.