Evil flat iron! How to use it not causing damage to hair?
Are you a fan of flat irons? Actually, the bigger question is: does your hair like them? A straightener instantly smoothes out and beautifies hair but then you pay the price. Extreme temperatures break disulfide bonds inside the hair, which leads to hair destruction. Does that mean you can't use flat irons at all? How to use them and avoid tragic consequences?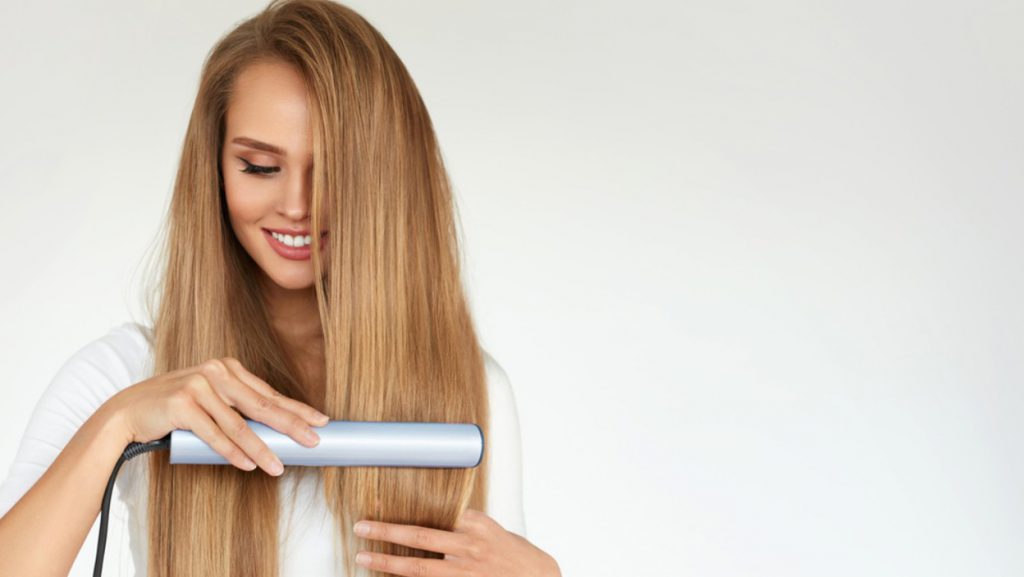 Safe hair straightening routine – the choice of method matters
If you can do without a flat iron, choose a different method instead. There are two other ways of making hair super smooth:
blow drying with a round brush;
smoothing with the right products.
These very methods are the least invasive and the safest for hair yet they will never give a flat-iron effect. At the same time, they let you discover that no-heat, delicate effect is worth it.
A classic alternative to flat irons involves blow-drying with a round brush – stretching the hair for amazing smoothness. First, towel-dry the hair. While blowing it dry, use the brush to stretch the hair and smooth it out. The round brush works well for short, medium-length hair whereas a flat brush is a better pick for long tresses.
Safe hair straightening routine – products and heat protectants
When straightening hair with a round brush, always remember about the right products and heat protectants. Prior to styling, apply a straightening cream or spray. Some smootheners include a heat-protective agent so they work like 2-in-1 products, ensuring both protection and lovely effect. A heat protectant is a must when you blow-dry the hair or expose it to the sunlight. Even though straightening with a round brush is safe, the effect lasts just several hours.
Safe hair straightening routine – hair oil before styling
Natural, cold-pressed oils are the best cosmetics that nature presents to us, and they don't work only for face or body skin – all hair salons recommend and use oils. Lots of prestigious salons have oil-based treatments in their offer. Why? Because oils are amazing at protecting hair from heat. You should always smooth some oil over (dry or damp) hair before the blow-drying/straightening routine.
Safe hair straightening routine – the choice of the right flat iron
If you really can't do without a straightener or want to straighten your curls, try to use it just for special occasions. Why? After a month of everyday use of a flat iron, your hair will look… not healthy. It will be straw-like and only hair scissors will save you.
Another key thing is choosing the right iron. Make sure it has heat control and ceramic or (ideally) tourmaline coating – the latest, new-generation flat irons have it and don't damage the hair that much. Ionic function is another feature of modern flat irons making hair smooth, shiny and preventing static. This feature helps keep the hair healthy. Heat control lets you reduce the temperature and match it to your needs. Even a pretty low temp is likely to straighten the hair, not causing much damage.
The best friend of flat-ironed hair? Heat protectants as well as hair care and repair geniuses i.e. natural, unrefined oils. Use them before every straightening routine, and once a week as a deep-conditioning mask. Such hair oil treatment is the least you can do. Hands down it lets you minimize the losses.