Clear up the hair! Nanoil Charcoal & White Clay Mask: Hair Detox, Repair & Balance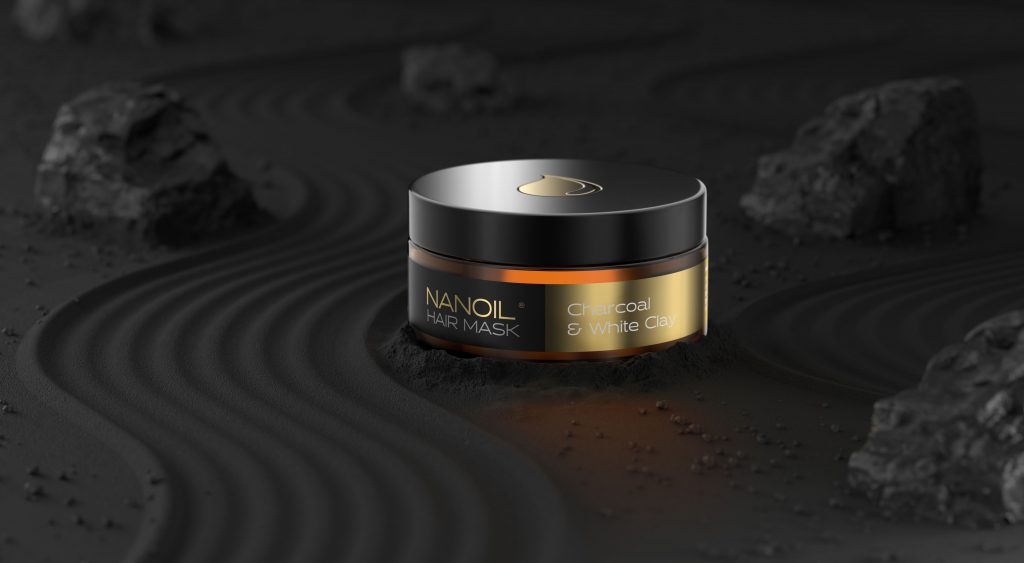 Hair must be thoroughly cleansed and nourished to look glossy, healthy and voluminous. If you believe that only a hairdresser is able to take control of your tresses, this means you haven't come across the Nanoil Hair Mask yet. Black charcoal and white clay make a professional duo that detoxifies the hair as well as perfectly nourishes the tresses, increases shine and adds volume. See why the Nanoil Hair Mask is labeled the best even by professionals!
EFFECT OF ACTIVATED CHARCOAL ON HAIR
It removes sebum and dirt from the hair, freshens up, intensifies volume.
Activated charcoal effectively cleanses the scalp clearing it of dirt, dust, dead cells, product and oil buildup. Clean, fresh hair perfectly absorbs active ingredients, is easier to style and nourish. The tresses look simply beautiful.
EFFECT OF WHITE CLAY ON HAIR
It's no wonder that white clay is a cosmetic best-seller: it abounds in macro- and micro-elements that are essential to healthy hair! White clay is rich in calcium, magnesium, potassium, silicon, phosphorus, iron, zinc, selenium and copper. It all gets inside your hair thanks to the activated charcoal which makes it easier for the nutrients to reach the deep hair structures.
The cosmetic clay has another important quality: it is negatively-charged so it attracts all positively-charged elements such as toxic substances and impurities. In other words, it perfectly complements activated charcoal. Plus, white clay is the mildest cosmetic clay which can be used even on the sensitive scalp.
NANOIL CHARCOAL & WHITE CLAY HAIR MASK: WHAT HAIR TYPE IS IT MADE FOR?
This is a cleansing mask made up of delicate components. It has a detoxifying effect and keeps the hair healthy and beautiful. This is what makes it ideal for any type of hair. Feel free to reach out for this mask even if your scalp is very sensitive or your hair is very fine and fragile.
The mask will also benefit greasy, flat, dull-looking hair weighed down by dirt and sebum buildup.
The cool thing is that the activated charcoal hair mask from Nanoil doesn't stain or change the hair color – good news if your hair is color-treated, bleached or blonde.
WHAT IS THE NANOIL CHARCOAL & WHITE CLAY HAIR MASK MADE OF?
Unsurprisingly, the mask contains white clay and activated charcoal that are the key ingredients. They absorb the impurities and balance the sebum secretion, nourish and calm the scalp. The mask is also rich in:
Vitamins (A, E) – essential hair-care vitamins that strengthen, improve the condition of hair and inhibit the hair loss.
Panthenol – it enhances the appearance of hair, repairs and promotes the production of keratin.
Algae – they intensively hydrate, abound in minerals, perfectly revive and shield against the oxidative stress.
Hydrolyzed sericin – a protein that softens, smoothens and reinforces the hair.
NANOIL CHARCOAL & WHITE CLAY HAIR MASK: EFFECTS
Clean, voluminous, lovely, manageable hair is the effect you see right away but this professional mask has much more to offer. By using the product regularly, you can notice that it perfectly:
strengthens and repairs
nourishes and revitalizes
cleanses the hair and scalp
delays the aging process
prevents allergic reactions
tames and has a conditioning effect
leaves the hair silky, shiny and healthy-looking
WHERE TO BUY THE NANOIL CHARCOAL & WHITE CLAY HAIR MASK?
The charcoal and white clay mask is available at the Nanoil site. Go to www.nanoil.co.uk and see other perfect beauty products including natural, certified organic oils. Become proud of your flawless hairdo!