How to Make your Lips Look Bigger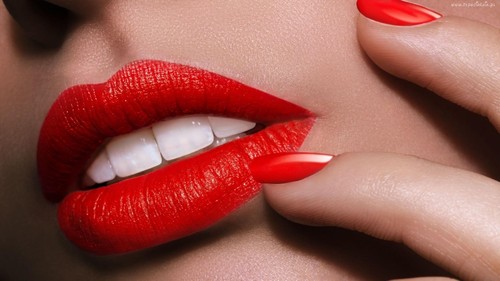 How to have a nice, big pout? Are your lips small and narrow? Using simple make-up tricks, you can make them appear fuller without having any injections done. No surgery no Botox, just a few cosmetics products and will have Angelina Jolie's lips.
Before starting the lip make-up make sure that your skin is well prepared so that it can hold the lipstick for longer. Moisturize your lips with the lip balm and let the product be absorbed. There is nothing worse than tinted, chapped lips. Then cover your lips with the thin layer of your regular foundation. Thanks to this trick, the lipstick will be locked in place and it will not transfer even when you eat or drink.
The first tool that you would like to use is the lip liner. Make sure it is as sharp as possible without breaking it. The lip liner should math the colour of your lipstick or if you want to go for a more natural look use the nude lip liner. Overdraw your lips slightly over the line of your lips. You can go over the lips as far as comfortable you feel. You want to gradually build the colour making sure that you do not miss the inner corner of your lips. If your lip liner is soft, it will probably go blunt by this stage so just sharpen it again to a nice fine point. Then resume colouring in.
Once you outline your entire lips just use the same lip liner to cover the lips so everything is in the same, even colour. It is time for your matching lipstick. It is advisable to use the lip brush to have a better precision. Trace all the areas where you have applied the lip liner which includes the lip line and inside of your lips. To get the real full pout place the clear lip-gloss on all lips and the lip line. Then take flat, angular brush and tap in in a small amount of your liquid foundation.
Precisely outline your lips outside of your lip line. This trick will make your lips appear fuller and it will also give your lips clean edges without any messy bits. If you want your lips to seem even bigger apply a small amount of the highlighter on your cupid's bow and in the middle of your upper and lower lips.