Flawless skin in a snap? Nanoil Vit. C Face Serum will surprise you!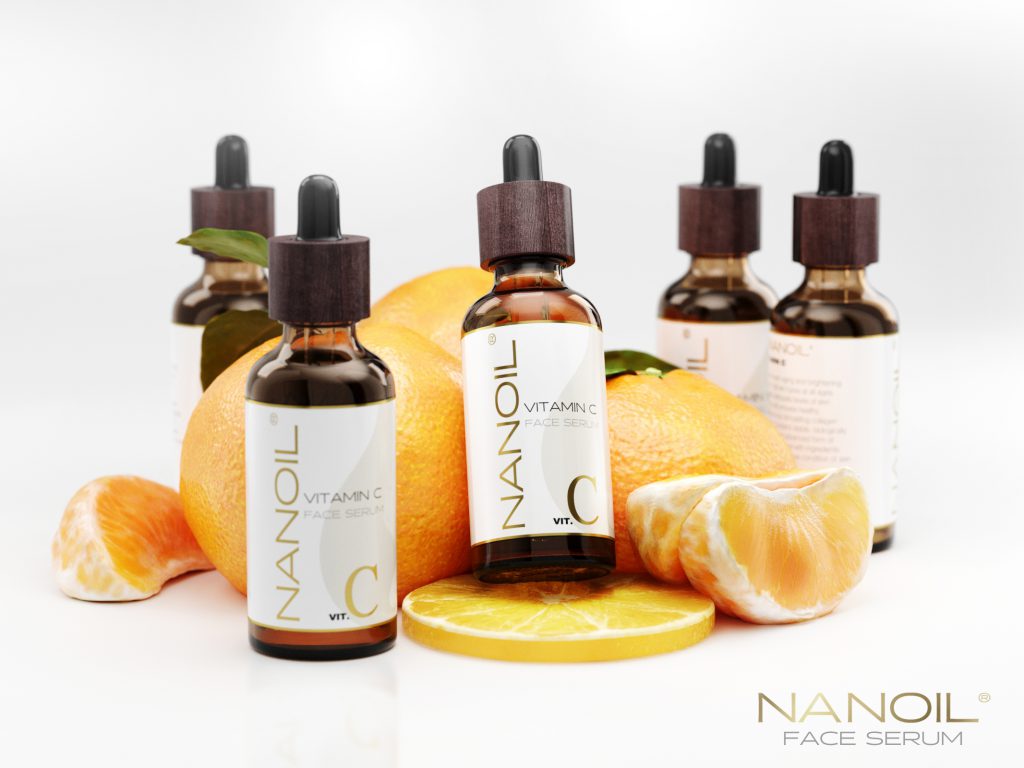 Are you dreaming of flawless skin but you don't feel like spending much on the costly in-salon treatments? See how powerful vitamin C is after being introduced into your daily beauty ritual. Nanoil Vitamin C Face Serum will give you stunning effects in a really short period of time. Keep reading to find out how your skin can take advantage of this budget-friendly vitamin C treatment.
Finally the stable form of vitamin C!
Since the pure vitamin C (ascorbic acid) breaks down easily – meaning it isn't efficacious – it had to be made stable. After a couple of attempts, the scientists finally achieved success and developed a vitamin C derivative known as 3-O-ethyl-l-ascorbic acid. This is the very form of vitamin C used in Nanoil face serum. Thanks to this game-changing substance, Nanoil serum leaves skin luminous, free from pigmentation spots and looking 10 years younger!

Punarnava – an amazing ingredient straight from Ayurveda
Punarnava is an extract obtained from the root of Asian plant Borehavia, and this extract is one of Nanoil Vitamin C Face Serum's components. This is the second most powerful antioxidant after vitamin C that leaves skin even-toned, brightens discolorations, reduces wrinkles and deals with the adverse effects that free radicals have on skin.
Nanoil vitamin C face serum. What skin is it good for?
One of the best things about Nanoil vitamin C face serum is that it suits all skin types equally well. This means that this skincare product will help you if you want to handle numerous skin concerns: dullness, pigmentation spots (both induced by the sun or ageing), acne, sagging and wrinkles – you name them.
The correct way of applying Nanoil vitamin C face serum
Nanoil serum can be used as an element of your morning or evening routine, but if you want to, you can apply it even twice a day. Always put it on clean skin, wiped with a facial toner. Later, follow with your favorite face cream.
Nanoil vitamin C face serum. Stunning and quick effects
Key benefits of Nanoil Vitamin C Face Serum include the following
It erases all types of pigmentation spots.
The serum leaves skin smoother and softer.
The product makes your skin look well-rested.
It evens out skin tone and reduces wrinkles.
Finally, it repairs skin and stimulates collagen synthesis.
When should you expect to see those effects? Nanoil delivers quick effects therefore it should take it no longer than a week to make your skin well-rested, smooth and moisturized. Over time you notice that vitamin C has brightened up pigmentation spots and made your skin radiant, thus looking younger. The best thing is that this serum will improve your skin appearance to such an extent that you won't need to wear makeup any longer. With Nanoil Vitamin C Face Serum you use a foundation when you want it, not because you need to!
What do users think about Nanoil vitamin C face serum?
A perfect cosmetic deserves raving reviews, and this is exactly what applies to Nanoil Vitamin C Face Serum. Thousands of satisfied users worldwide confirm that vitamin C in Nanoil serum turned their dull and blemished skin into flawless and luminous complexion.
Fancy learning more about this brightening face serum? Visit nanoil.co.uk